The RecipeProductType defines the structure of an Object of the RecipeProductType. Figure 41 shows the hierarchical structure and details of the composition. It is formally defined in Table 84.
An Object of the RecipeProductType represents a product of a recipe scale. It defines additional methods and properties required for managing the product.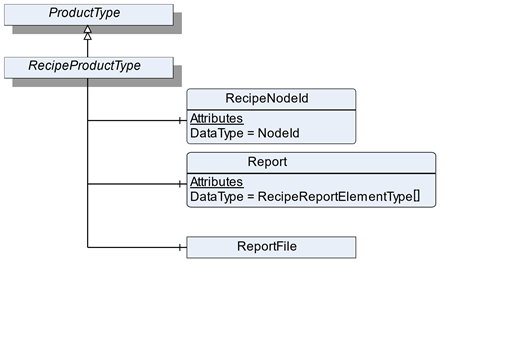 Figure 41 – Overview RecipeProductType
Table 84 – RecipeProductType Definition
Attribute

Value

BrowseName

RecipeProductType

IsAbstract

False

References

NodeClass

BrowseName

DataType

TypeDefinition

ModellingRule

Subtype of the ProductType

0:HasComponent

Variable

RecipeNodeId

NodeId

BaseDataVariableType

Mandatory

0:HasComponent

Variable

Report

RecipeReportElementType[]

BaseDataVariableType

Mandatory

0:HasComponent

Object

ReportFile

FileType

Optional
RecipeNodeId defines the node id of the recipe that is being produced.
Report defines an array with the various messages from the recipe. Each RecipeElement generates its own report message.
ReportFile defines the file (binary, xml or other) that contains the report of the current process.