The RockCrusherType provides a representation of a Rock Crusher and is a sub-type of the MiningEquipmentType as shown in Figure 2. It acts as a container class for sub-components and has the ability, through inheritance, to have its own Parameter- and MethodSet.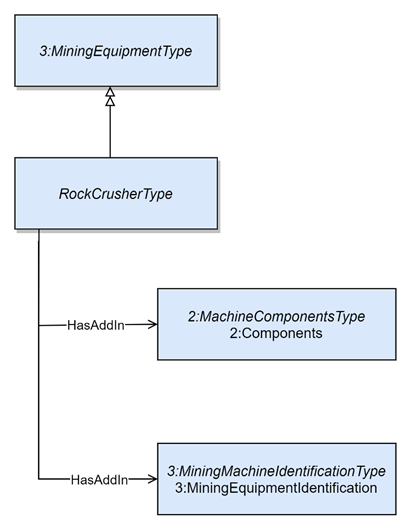 Figure 2 – Overview RockCrusherType
The RockCrusherType is formally defined in Table 1.
Table 1 – RockCrusherType Definition
Attribute

Value

BrowseName

RockCrusherType

IsAbstract

False

References

Node Class

BrowseName

DataType

TypeDefinition

Other

Subtype of the MiningEquipmentType defined in OPC 40560

0:HasAddIn

Object

3:Components

3:MachineComponentsType

M

0:HasAddIn

Object

4:MiningEquipmentIdentification

4:MiningEquipmentIdentificationType

M

Conformance Units

Rock Crusher Functional Variables

Rock Crusher Methods
Please refer to OPC 10000-100, OPC 40001-1, OPC 40560 and OPC 40564-1 for the descriptions of other inherited instance declarations. Specifically, the Components and MiningEquipmentIdentification instance declarations of the RockCrusherType are defined in OPC 40560.