A Networkis the logical representation of wired and wireless technologies and represents the communication means for Devicesthat are connected to it. A Networkinstance is qualified by its Communication Profilecomponents.
Figure 19shows the type hierarchy and the NetworkTypecomponents. It is formally defined in Table 37.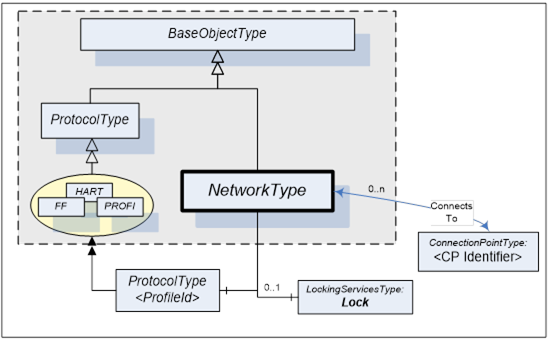 Table 37– NetworkType definition
Attribute

Value

BrowseName

NetworkType

IsAbstract

False

References

NodeClass

BrowseName

DataType

TypeDefinition

ModellingRule

Subtype of the BaseObjectType defined in OPC 10000-5.

HasComponent

Object

<ProfileIdentifier>

ProtocolType

MandatoryPlaceholder

ConnectsTo

Object

<CPIdentifier>

ConnectionPointType

OptionalPlaceholder

HasComponent

Object

Lock

LockingServicesType

Optional

Conformance Units

DI Network
The <ProfileIdentifier> specifies the Protocoland Communication Profilethat this Networkis used for.
<CPIdentifier> (referenced by a ConnectsTo Reference) references the ConnectionPoint(s) that have been configured for this Network. All ConnectionPoints shall adhere to the same Protocolas the Network. See also Figure 22for a usage example. They represent the protocol-specific access points for the connected Devices.
In addition, Networksmay also support LockingServices(defined in 7).
Clientsshall use the LockingServicesif they need to make a set of changes (for example, several Writeoperations and Methodinvocations) and where a consistent state is available only after all of these changes have been performed. The main purpose of locking a Networkis avoiding concurrent topology changes.
The lock on a Networkapplies to the Network, all connected TopologyElementsand their components. If any of the connected TopologyElementsprovides access to a sub-ordinate Network(like a gateway), the sub-ordinate Networkand its connected TopologyElementsare locked as well.
If InitLockis requested for a Network, it will be rejected if any of the Devicesconnected to this Networkor any sub-ordinate Networkincluding their connected Devicesis already locked.
If the Online/Offline model is supported (see 6.3), the lock always applies to both the online and the offline version.