The MaterialType defines the structure of an Object of the MaterialType. Figure 62 shows the hierarchical structure and details of the composition. It is formally defined in Table 131.
An Object of the MaterialType represents a material. It defines additional properties required for managing materials (for example as part of a vehicle product or in a recipe).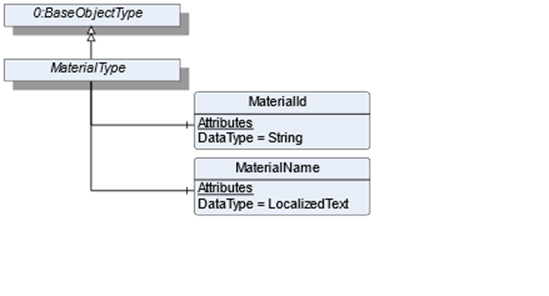 Figure 62 – Overview MaterialType
Table 131 – MaterialType Definition
Attribute

Value

BrowseName

MaterialType

IsAbstract

False

References

NodeClass

BrowseName

DataType

TypeDefinition

ModellingRule

Subtype of the BaseObjectType defined in OPC 10000-5

0:String

BaseDataVariableType

Mandatory

0:HasComponent

Variable

MaterialName

0:LocalizedText

BaseDataVariableType

Mandatory
MaterialId defines a unique identifier for the material.
MaterialName defines a user-readable name of the material.