ITagNameplateTypeincludes Propertiesthat are commonly used to describe a TopologyElementfrom a user point of view.
The TagNameplate Interfaceis illustrated in Figure 6and formally defined in Table 19.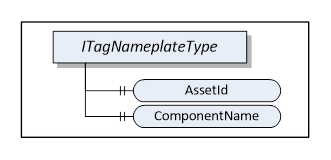 Figure 6– TagNameplate Interface
Table 19– ITagNameplateType definition
Attribute

Value

BrowseName

ITagNameplateType

IsAbstract

True

References

NodeClass

BrowseName

DataType

TypeDefinition

Other

Subtype of the BaseInterfaceTypedefined in OPC 10001-7

0:HasProperty

Variable

AssetId

0:String

0:PropertyType

O

0:HasProperty

Variable

ComponentName

0:LocalizedText

0:PropertyType

O

Conformance Units

DI TagNameplate
AssetIdis a user writable alphanumeric character sequence uniquely identifying a component. The ID is provided by the integrator or user of the device. It contains typically an identifier in a branch, use case or user specific naming scheme. This could be for example a reference to an electric scheme.
ComponentNameis a user writable name provided by the integrator or user of the component.
Table 20specifies the mapping of these Propertiesto the International Registration Data Identifiers (IRDI) defined in ISO/IEC 11179-6. They should be used if a Serverwants to expose a dictionary reference as defined in OPC 10001-5.
Table 20– TagNameplate Mapping to IRDIs
| | |
| --- | --- |
| Property | IRDI |
| AssetId | |
| ComponentName | 0112/2///61987#ABA251- designation of device |