The PubSubStateis used to expose and control the operation of a PubSubcomponent. It is an enumeration of the possible states. The enumeration values are described in Table 1.
| | |
| --- | --- |
| Value | Description |
| Disabled_0 | The PubSub component is configured but currently disabled. |
| Paused_1 | The PubSub component is enabled but currently paused by a parent component. The parent component is either Disabled_0or Paused_1. |
| Operational_2 | The PubSub component is operational. |
| Error_3 | The PubSub component is in an error state. |
Figure 19depicts the PubSubcomponents that have a PubSubstate and their parent-child relationship. State changes of children are based on changes of the parent state. The root of the hierarchy is the PublishSubscribecomponent.

Figure 19– PubSub Component State Dependencies
Figure 20describes the formal state machine with the possible transitions.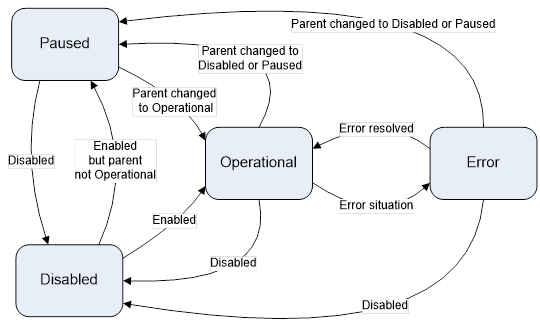 Figure 20– PubSubState State Machine
Table 2formally defines the transitions of the state machine.
Table 2– PubSubState State Machine
| | | |
| --- | --- | --- |
| Source State | Target State | Trigger Description |
| Disabled_0 | Paused_1 | The component was successfully enabled but the parent component is in the state Disabled_0 or Paused_1. |
| Disabled_0 | Operational_2 | The component was successfully enabled. |
| Paused_1 | Disabled_0 | The component was successfully disabled. |
| Paused_1 | Operational_2 | The state of the parent component changed to Operational_2. |
| Operational_2 | Disabled_0 | The component was successfully disabled. |
| Operational_2 | Paused_1 | The state of the parent component changed to Disabled_0 or Paused_1. |
| Operational_2 | Error_3 | There is a pending error situation for the related PubSubcomponent. |
| Error_3 | Disabled_0 | The component was successfully disabled. |
| Error_3 | Paused_1 | The state of the parent component changed to Disabled_0 or Paused_1. |
| Error_3 | Operational_2 | The error situation was resolved for the related PubSubcomponent. |